The Weapons of Science Fiction (The Propmaker

:

A Modern-day Artisan)
Introduction
To my father's dismay—he did not even allow toy guns into the house—I not only grew up to become interested in World War II German arms, but the fictitious prop weapons of science fiction as well.
The imagination and craftsmanship of the propmaker is unparalleled. Not only must he be an artist, but he must also be an engineer, an historian, a designer, an electronics expert, a graphic artist, an inventor, a sculptor, a machinist, a metallurgist, a chemist, a plastics specialist, as well as a technology and firearms expert. Unfortunately, it is truly sad to watch as the Hollywood or fan propmaker plies his trade in virtual obscurity.
This site's goal is to reveal, showcase, and honor the wonderful art of the propmaker. It is about time that the propmaker was noticed and appreciated. The propmaker stimulates our imagination, excites our enthusiasm, and provides the tangible evidence of our creative potential as human beings.
News
January 16, 2017: Changed the scaling format on the table that hosts Hal Pehlich's art. His art will now scale up or down based on window sizing.
A teaser trailer for the new Blade Runner 2049 film has been out since the end of December. It features this site's owner's freeware font and original numbers in the "2049" part of the title.
October 8, 2016: The Blade Runner sequel has officially received a name. It will be called Blade Runner 2049. Additionally, in the first publicity photo released, not only is the Blade Runner blaster of the original movie visible, but the square Arnolfo di Cambio Cibi Double Old Fashioned glass as well. The glasses are available for sale on our sister site, Cool F/X, and here.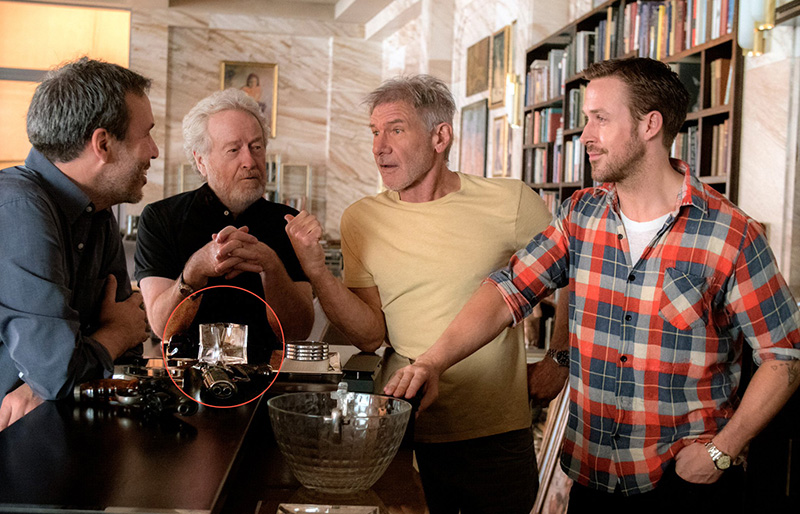 Photo of Harrison Ford and Ryan Gosling on the set of Blade Runner 2049 with Denis Villeneuve and Ridley Scott.
May 23, 2016: Uploaded the latest Hal Pehlich art, which consists of a new Blade Runner variation poster with updated red trim and subtle red glowing eyes on Rachel and Roy.
May 8, 2016: The site has been moved to a more powerful server with additional capacity. Visitors should notice significantly faster performance.
December 29, 2015: Updated the topmost poster with the newest version from Hal Pehlich.
October 3, 2015: Hal Pehlich has provided more cool art to post here.
September 25, 2015: Hal Pehlich has provided new art to freshen up the site. The movie poster and Roy Batty pieces below are the latest additions.
April 5, 2015: Added two new Hal Pehlich artworks (see below).
March 16, 2015: Two updated and new Hal Pehlich artworks have been posted (see below).
November 19, 2014: The new Blade Runner LAPD policeman holster is now available here.
November 11, 2014: A new article about the Blade Runner Rick Deckard holster has been posted here.
Canada-based Austrian artist Hal Pehlich created these
extraordinary Blade Runner posters. An archive of his
previous work can be found here.